Manfrotto MVT502AM Video Tripod with Telescopic Twin Legs (Black)
3 Telescopic-twin section legs, 75mm Bowl with 60mm adapter. Ellipse profile aluminum tubes for rigidity and stability
Roll over image to zoom in
Manfrotto Compact Video Tripod Telescopic Twin 56.5"
Mouseover to see full size
The Manfrotto MVT502AM is a compact, lightweight video tripod designed for HD video-capable DSLRs, camcorders and light video cameras equipped with accessories, lights, monitors and microphones. Rigid, stable and secure thanks to its telescopic twin-leg structure, ellipse-profile aluminium tubes, new leg locking collars, first-stage spreader and high-grip rubber feet, the MVT502AM is also intuitively easy to use, allowing you set up faster and concentrate on filming. The 2-stage/3-section MVT502AM is part of Manfrotto's Pro Twin Leg video tripod range and has a 75mm bowl (with 60mm adapter) for compatibility with professional video heads.
For 75mm/60mm Half-Ball Video Heads.
Load Capacity: 33 lb.
Max Height: 56.5".
Min Height: 22.44".
Folded Length: 24.21".
Leg Sections: 3.
*Weight: 4.3 lb.
Built-In Carrying Handle.
Aluminum Construction.
Load Capacity : 33 lb (15 kg).
Maximum Height : 56.5" (143.5 cm).
Minimum Height : 22.44" (57 cm).
Folded Length : 24.21" (61.5 cm).
Weight : 33 lb (1.95 kg).
This tripod is suitable for traditional cameras, SLR cameras, video camcorder , digital cameras and other camera types.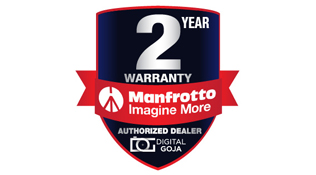 Manfrotto Products purchased from Authorized Manfrotto Dealers are covered under the Standard Limited Warranty by Manfrotto Inc. in the United States. If any Product proves to be defective within the specified warranty period, the customer must return the defective Product to an Manfrotto Service Center.
Products are warranted against defects in materials and workmanship only. Your warranty period begins the day you purchase your Manfrotto product.
Your 100% satisfaction is our responsibility and concern. Buy with confidence!
Authorized Manfrotto Dealer.
0
0
Item model number: MT0014